RECENT ECONOMIC DEVELOPMENT
Recent economic growth has been robust. Gross domestic product (GDP) grew by 4.0 per cent in 2018, supported by strong domestic demand and growing exports. A similar trend continued in the first half of 2019 when the growth rate accelerated to 5.2 per cent.
Reforms have largely come to a halt. The political stalemate following the inconclusive parliamentary elections in February 2019 led to a caretaker government with limited powers and little appetite for reform.
The six Eastern Partner countries have been making a steady progress making the business climate more conducive for SMEs to enter and operate. This overview of the Doing Business indicator of the World Bank shows the improvement over the years: gradually closing the wide gap with the best performing countries of the region and the world. Moldova started off at below 60% of that distance to frontier but stands now at over 70%.
Doing Business – Distance to frontier, EaP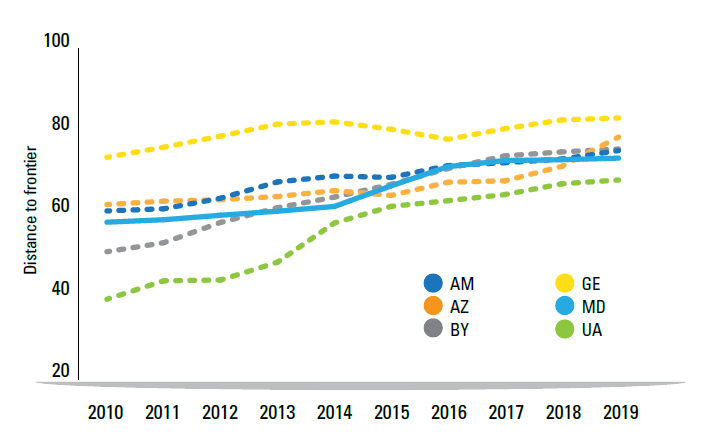 Source: Doing Business, World Bank, www.doingbusiness.org
The new definition of SMEs adopted in 2016 is in line with EU and international good practices. It uses employment, turnover and balance sheet criteria to determine whether a company is a micro, small or medium enterprise. While the employment criteria are consistent with the EU definition, thresholds for turnover and assets are lower in Moldova, reflecting Moldova's lower per capita incomes. Under the new definition, 98.7 percent of all firms in Moldova in 2018 were SMEs accounting for 59.8 percent of business sector employment and 70.8 percent of value added (SME Policy Index: Eastern Partner Countries 2020: Assessing the Implementation of the Small Business Act for Europe, OECD).
Business demography indicators 2018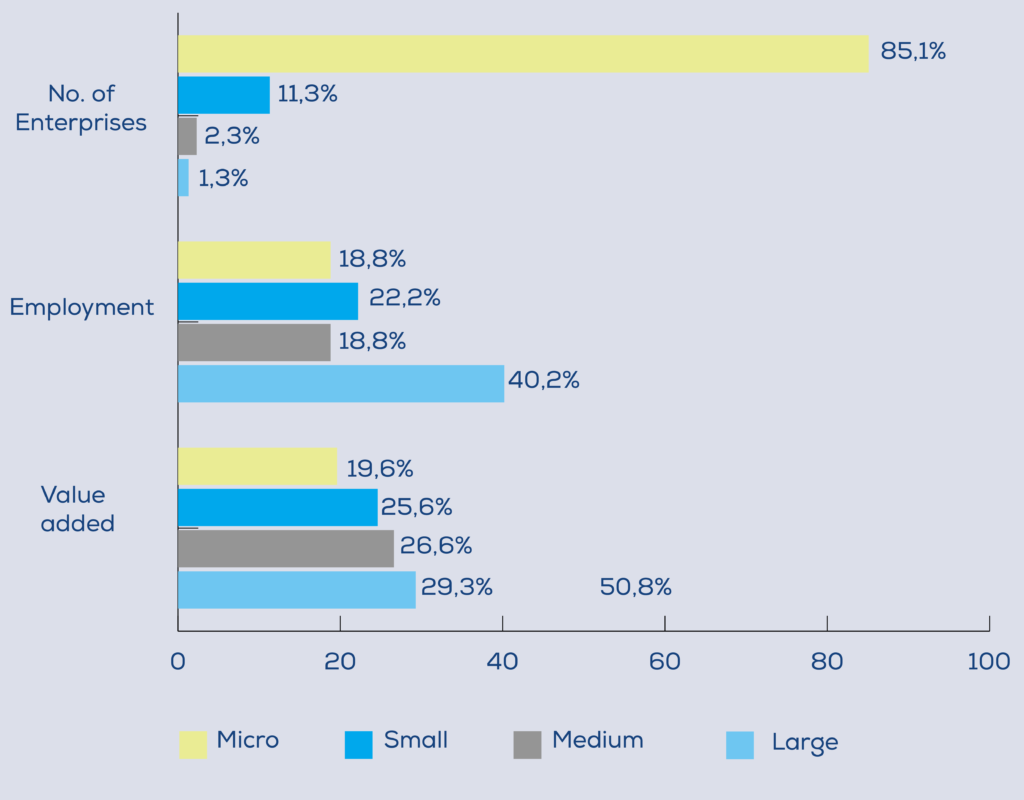 Source: Armstat, (2019), Georgia, 2019.
The funds invested by the European Union triggered additional loans and financial assistance in the country, effectively quadrupling the assistance 12-fold. This benefitted 6,170 SMEs and created an estimated 2,912 jobs, beyond the sustained ones. The number of projects in the country, and with it the EU's assistance, has been on the steady rise over the ten years of EU4Business's operation.