RECENT ECONOMIC DEVELOPMENT
Economic growth has decelerated to 0.9 percent year-on-year in the first half of 2019.
The business environment is improving.
Household consumption recorded robust growth of 8.3 percent, benefiting from a strong increase in disposable incomes.
Investments in fixed assets increased by 4.9 percent as a result of growing external and internal demand. 
Value added increased in all large sectors except agriculture, where it declined by 4.0 percent.
Inflation rose to 5.9 percent in January to August 2019 year-on-year on the back of increases in regulated prices and tariffs.
The six Eastern Partner countries have been making steady progress in improving the business climate for SMEs. This overview of the Doing Business indicator of the World Bank shows how Belarus has improved over the years, gradually closing the wide gap with the best performing countries of the region and the world ('distance to frontier'). Belarus started off at 50% of that distance to frontier but stands now at 75%.
Doing Business – Distance to frontier, EaP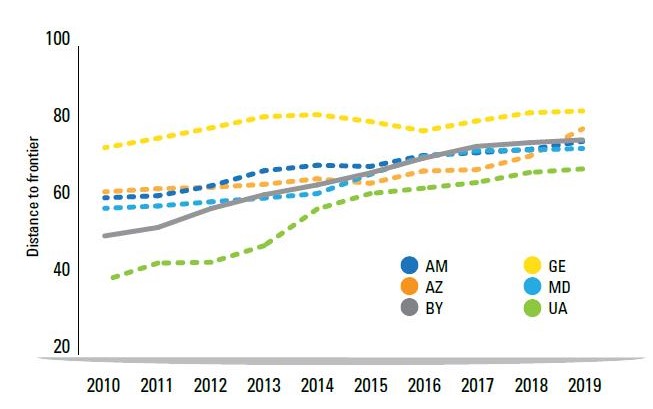 Source: Doing Business, World Bank, www.doingbusiness.org
Belarus has one of the lowest number of SMEs per capita across the EaP, and lags behind in the share of employment generated by the SME sector. SMEs' share of GDP comes to less than a third of national economic output. SMEs' contribution to value added and employment in the business sector remains limited and state-owned enterprises continue to play a disproportionate role in the economy. In recent years, the Government of Belarus has been increasing its efforts to promote private-sector development, strengthen the position of SMEs and sustain growth, employment and resilience.  
Business demography indicators 2018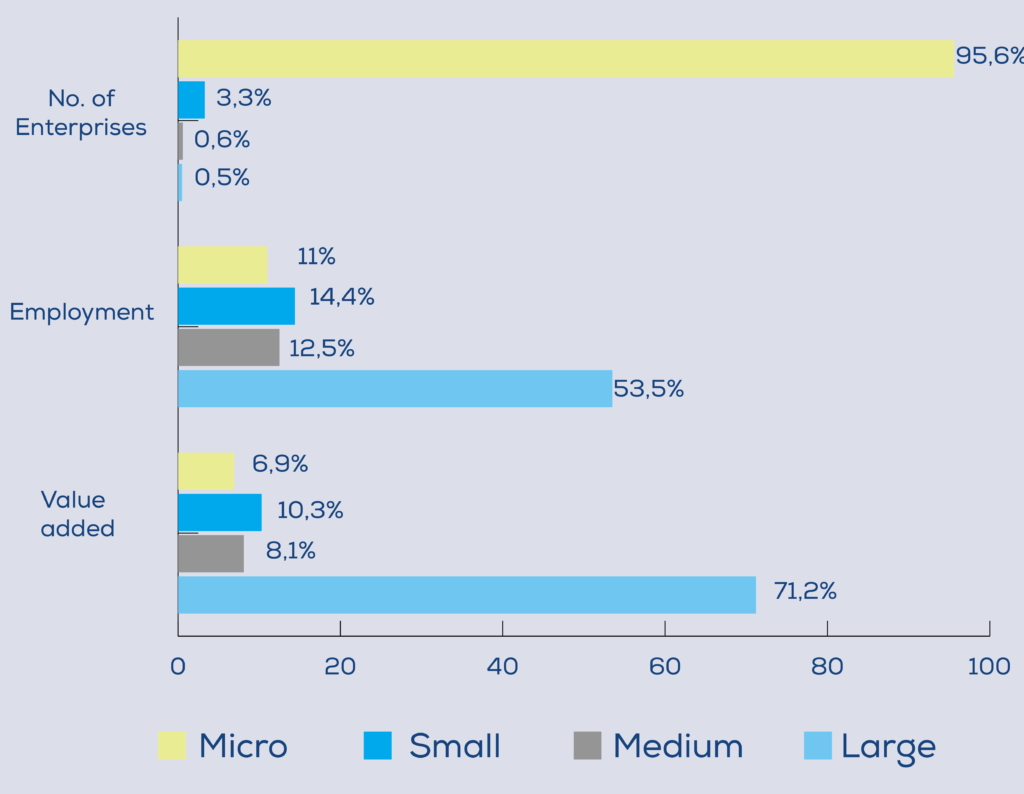 Source: Armstat, (2019), Belarus, 2019.
The funds invested by the European Union triggered additional loans and financial assistance in the Belarus, effectively tripling the assistance. This benefitted 4,441 SMEs and created an estimated 5,728 jobs, beyond the sustained ones. The number of projects in the country, and with it the EU's assistance, has been on the steady rise over the ten years of EU4Business's operation.