RECENT ECONOMIC DEVELOPMENT
GDP grew by 3.5 percent in the first half of 2019 compared to 3.3 percent in 2018.
Private consumption continued to grow rapidly.
Manufacturing and investment growth remained weak.
Investment was limited by low foreign direct investment of just 0.6 percent of fiscal year GDP in the first half of 2019
Higher consumption was registered and was determinant in reducing poverty.
Wages continued to grow in 2019 due to economic growth and persistent outward labour migration.
The six Eastern Partner countries have been making a steady progress making the business climate more conducive for SMEs to enter and operate. This overview of the Doing Business indicator of the World Bank shows the improvement over the years: gradually closing the wide gap with the best performing countries
of the region and the world. Moldova started off at below 60% of that distance to frontier but stands now at over 70%.
Doing Business – Distance to frontier, EaP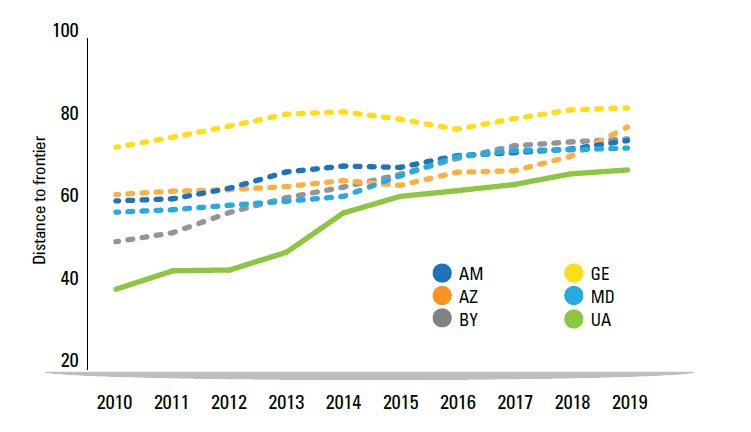 Source: Doing Business, World Bank, www.doingbusiness.org
In 2018, SMEs made up 99.8% of all enterprises in the business sector, 96% of them being microenterprises.
SMEs accounted for 63% of the total business employment in Ukraine and generated 49% of value added in the business sector (SME Policy Index: Eastern Partner Countries 2020 : Assessing the Implementation of the Small Business Act for Europe, OECD).
Business demography indicators 2018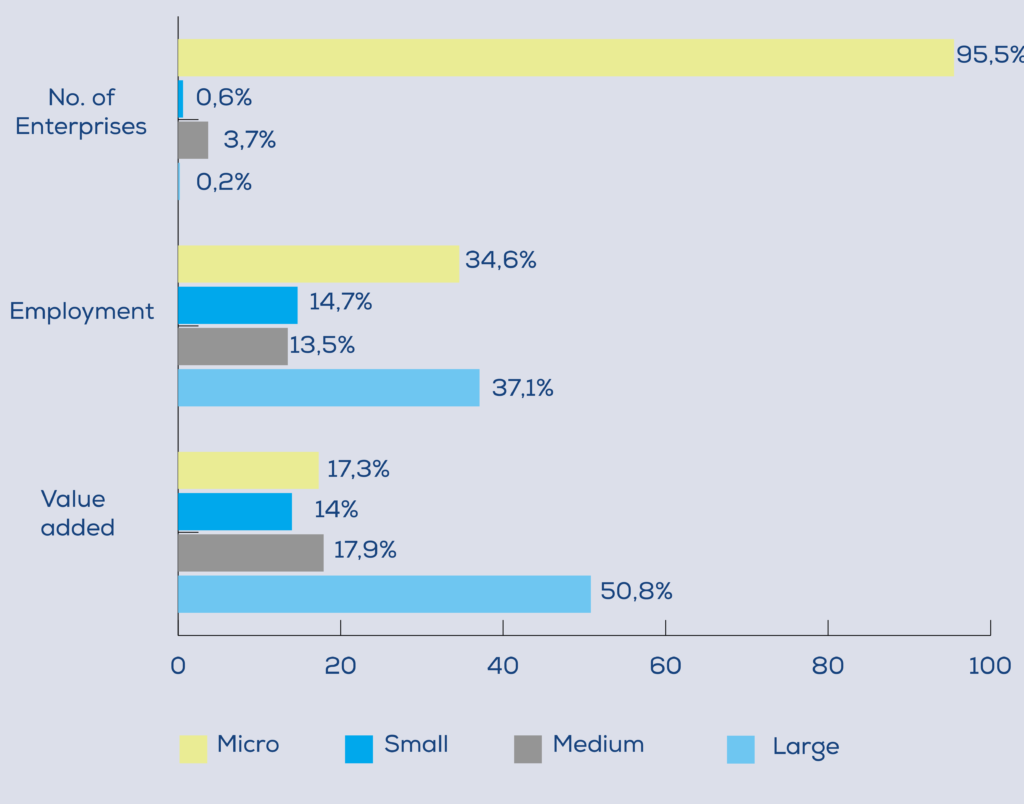 Source: Armstat, (2019), Ukraine, 2019.
The funds invested by the European Union triggered additional loans and financial assistance in the country, effectively tripling the assistance. This benefitted 3,228 Ukrainian SMEs and created an estimated 7,226 jobs, beyond the sustained ones. The number of projects in the country, and with it the EU's assistance, has been on the steady rise over the ten years of EU4Business's operation.